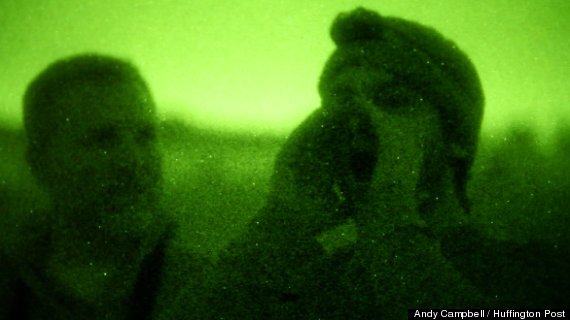 Cliff and Andy do some calls
Earlier in the month, I
posted a short video of me taking Andy from the Huffington Post out bigfooting
in the New Jersey Pine Barrens. Now a written article has been released detailing some of the events of that evening, and general comments made throughout the night. Enjoy the article below:
Bigfoot Hunting With The 'Finding Bigfoot' Team Reveals ... Something In The Water
Andy Campbell
Andy.campbell@huffingtonpost.com
It was pitch black. We couldn't make a sound. And all we had to protect us were vision cameras, sticks, and a few chicken wings.
We heard a splash that made us jump.
HuffPost Weird News went on a Bigfoot hunt in the pine wilds of New Jersey with Cliff Barackman and Tyler Bounds of Animal Planet's "Finding Bigfoot" -- and conditions were perfect.
The weather was calm at the Franklin Parker Preserve, where we had exclusive access for the night. Some ambient light gave us a farther sight distance. We started our trek with a simple tactic: The "knock," which consists of banging sticks against trees.