The evidence that brought the Finding Bigfoot team to Vermont came in the form of a very intriguing photograph obtained by a motion-sensor trail camera. I found the photo very compelling, so I made it a point to return to the site for a more in-depth study of the picture. Below is my analysis: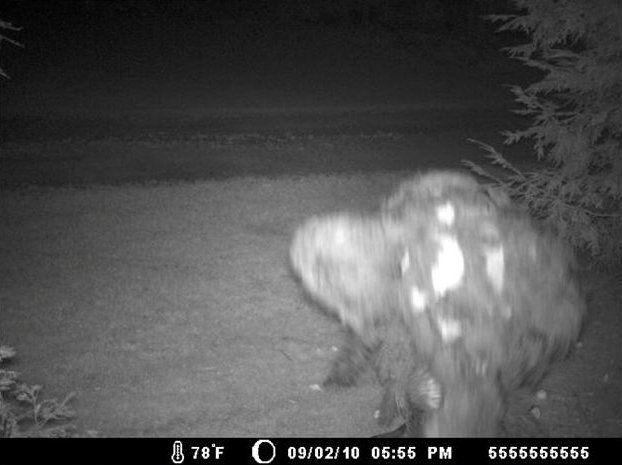 The Vermont Trail Camera photo was obtained on September 3, 2010 by a man named Frank (last name withheld). Frank and his wife live on a rural property in western Vermont. They own several acres backed up against large expanses of privately owned forest. On their property, there are eighteen fruit trees specifically planted and maintained to bring in wildlife for Frank's and his wife's viewing pleasure. In their front yard is a decent sized pond which contains numerous trout, and just down the road from the property is another even larger pond several acres in size. The surrounding hills are steep and thickly wooded making the area excellent habitat for all sorts of creatures. On top of it all, the area has a history of bigfoot activity as well. Several years before the photograph was obtained, one of Frank's neighbors reported seeing a sasquatch down the road from Frank's property.

Frank's wife remembers hearing strange noises in the woods the week that this photograph was obtained. Those noises included banging and strange vocalizations. After obtaining the photo, Frank asked the Vermont Fish and Wildlife Department what is in the photograph. They didn't know, but suggested it was an owl. Thinking this was a ludicrous explanation, Frank later went to Steve Kulls, a New York-based bigfoot researcher who did his own investigation into the photograph. Steve's excellent analysis of the photo, as well as other background information on the picture, can be found here.

I spent several hours with Frank and his wife talking about the photographs and the surrounding area. I am utterly satisfied that Frank is not lying about the photographs or the circumstances surrounding them in any way.

Click this link to read the rest of the article.