What are you doing over the weekend of April 8 - 10, 2011? I know what I'm doing! I'm heading to Harrison Hot Springs in British Columbia for what will surely be the most amazing bigfoot gathering of the year: The Sasquatch Summit, a Tribute to John Green. Whoohoo!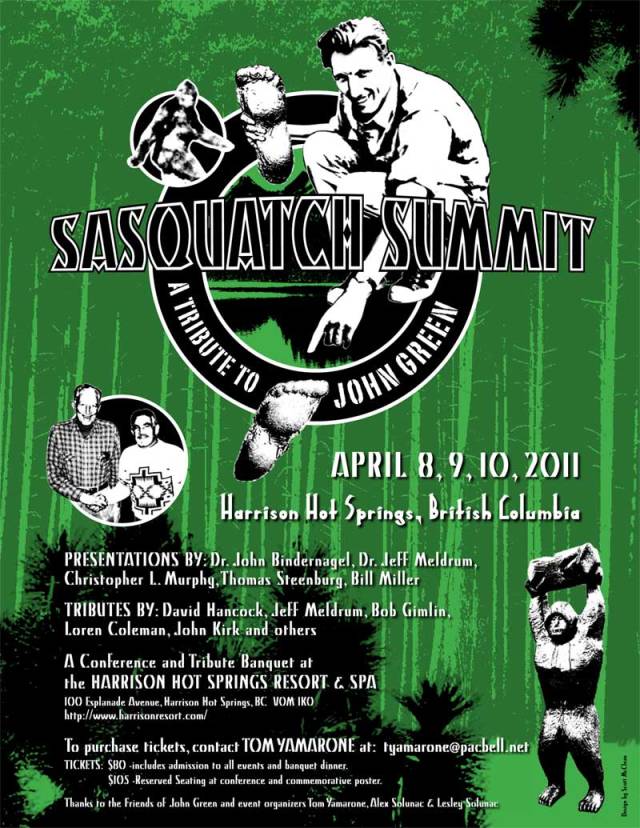 John Willison Green is a legendary figure in the history of sasquatch research. He wrote some of the most informative books on the subject, and he acquired a database of sightings and encounters that is invaluable and unrivaled. He documented the subject like no one else and corresponded with anyone interested in the sasquatch. John's contributions are well known; his epic tome, Sasquatch: the Apes Among Us is the quintessential sasquatch book. After many years of tireless interest and inquiry, it's time to gather in John's hometown and celebrate his lifetime contribution to our bigfoot world. Please join us April 8, 9 & 10 for a weekend in Harrison Hot Springs, British Columbia.
GUEST OF HONOR: JOHN GREEN
Special Guests:
Bob Gimlin, David Hancock, Loren Coleman, John Kirk
Presentations by:
Dr. John Bindernagel, Dr. Jeff Meldrum, Christopher L. Murphy, Thomas Steenburg with Bill Miller
Tributes by:
David Hancock, Jeff Meldrum, Bob Gimlin, Loren Coleman, John Kirk and others
The event will be a gathering of bigfoot researchers, authors and enthusiasts brought together to celebrate the life and contributions of John Green. Friday, April 8th will start with registration opening at 4pm, and continue into the evening with light snacks and a no-host bar at an informal 'Meet & Greet' reception. Later there will be Round Table Discussions with well-known authors and investigators, a chance to catch up with friends, and time to browse amongst the vendors tables.
The conference is scheduled for Saturday, April 9th from 11:00 am until 4:00 pm. The presentations will focus on local sasquatch encounters, the current status of research, and the lifetime involvement of John Green in regards to sasquatch investigation. John himself will participate in a question and answer session as well.
A tribute banquet will take place Saturday evening from 6:30 – 9:00 pm. Unique sasquatch artifacts and evidence will be on display; rare books and commemorative items will also be available.
$105 -Reserved Seating at conference and commemorative poster.
(add $20 to the ticket prices and purchase your t-shirt now. Include size and color with your order.)
In Canada, mail a check or money order to (and payable to):
Location: Harrison Hot Springs Resort and Spa
100 Esplanade Avenue, Harrison Hot Springs, BC V0M 1K0
Phone (604) 796-2244 Toll-free 1-800 663-2266 (PRESS 2 for Group Reservations)
(We recommend that U.S. residents utilize the toll free number.)
GROUP NAME: Sasquatch Summit
(the rates listed below are a substantial discount from their regular Friday & Saturday room rates. Be sure to get a confirmation number. They will also email you a confirmation email.
Do let us know if you have any problems making your room reservations.)
Main Hotel $119 per night. The rooms found in the main hotel, which is the original structure built in 1926, are warm and cozy and are decorated in a heritage style. All rooms have different configurations, so please ask what the sleeping arrangements are when booking. (Example: some rooms have one double and one single bed instead of two queens.) **These rooms are excellent accommodations but have soundproofing issues. If you are sensitive to sounds from neighboring rooms, please be advised.**
West Wing $129 per night. Featuring standard hotel rooms, the West Wing rooms offer views of the resort gardens or Harrison Lake.
West Tower $139 per night. The West Tower has superior rooms and features balconies that overlook the famous Hot Springs pools or Harrison Lake.
East Tower $149 per night. The East Tower is the newest addition to the hotel where you'll find deluxe rooms with balconies. All rooms have a full or partial view of Harrison Lake.
Cottages $139 per night. Drive up to your own comfortable cottage located toward the back of the resort. These cottages are pet friendly with no extra charges and include a bedroom with a separate living room that features a gas fireplace and fold out couch. If you are bringing a pet please read the 'pet registration card' found under 'accommodations' on their website.
All rates are based on double occupancy and do not include taxes.
There are a few other accommodations in the town of Harrison Hot Springs, B.C. For more information, try a google search – or contact an event organizer for a file on other accommodations.
Sasquatch Summit Organizers: Alex Solunac, Lesley Solunac & Tom Yamarone
Contact them with questions at
The organizers:
Alex Solunac, Tom Yamarone, and Lesley Solunac
The fine print! PLEASE NOTE: Ticket prices may be increasing after February 15, 2011. Purchasing your ticket prior to this date will avoid any potential rise in costs. $55 of the ticket price is to pay for the banquet itself, and includes provincial taxes and pre-paid gratuities. The number of tickets available is limited due to space/Fire Marshall regulations. We cannot guarantee that there will be tickets available to purchase 'last minute' at the event. Unfortunately, due to conference contract restrictions refunds will not be available within 30 days of the event. Event organizers and resort staff reserve the right to refuse admission to anyone. Disruptive behavior will result in removal from the event. Event organizers will not be held responsible for activities conducted outside of the Harrison Hot Springs Resort and Spa facilities. Event times may be subject to change.
------ IMPORTANT NOTE on PASSPORTS or PASSPORT CARDS ----
United States residents, you NEED one to cross into Canada and then return to the U.S. They take 4 weeks to process. Passports cost $135 these days. Passport Cards are half the price or less.
Also, I've received word that Washington residents have an Enhanced Driver's License option - instead of a passport or passport card.