Mark your calendars! For the fourth year in a row, Mike Rugg of the Bigfoot Discovery Museum in Felton, CA is throwing the conference/event called Bigfoot Discovery Day. This year, Field Researcher Bart Cutino, California State Ranger Robert Leiterman, and others are scheduled to speak. Local witnesses are also being lined up to give accounts of their encounter from in and around Santa Cruz County.
Bart Cutino will be speaking about his thermal bigfoot sighting, as well as his current research in and around Monterey and Santa Cruz Counties. Being in frequent communication with Bart, I know that he gets out often in central California, an area with few active field guys. If you are a local, you might benefit from picking his brain for local spots. You might be surprised where sasquatches are seen in that part of the country.
Ranger Robert Leiterman, who is also author of several bigfoot novels, will detail his camera trap study field work in the redwood forests of Humboldt County, CA. Being a park ranger, he has a unique opportunity to deploy cameras in the some of the squatchiest spots in Humboldt County in a dual effort to catch individuals using public lands for nefarious purposes, and/or a sasquatch by using these photo traps.
Interestingly, Robert and Bart worked together on another project and investigation several years ago centered around a mysterious "snow mound" found in the Sierra Nevada Mountains of California. Even though I was on this trip with Bart and Robert, I regrettably never saw the mounds. I guess I was distracted elsewhere (it was a good trip). There were definitely sasquatches around, and I got a decent vocalization recording in the same valley the night before. (Or was it two nights before? I don't know. Unfortunately, I wasn't as rigorous in my documentation at that time.)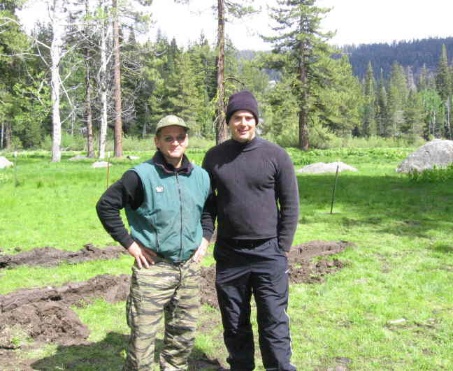 Robert Leiterman and Bart Cutino in Stanislaus National Forest
When, what, and where:
Saturday October 16, 2010
11am-4pm BBQ and fellowship at the Bigfoot Discovery Museum
5497 Highway 9, Felton, CA 95018
6pm-9pm Presentations at Louden Nelson Community Center
301 Center St., Santa Cruz CA 95060
How much?
At the Museum--
Museum is free admission, BBQ lunch is $5-6
At the Evening Presentations--
Genr'l Admission Adult 10.00
Museum members, seniors, students 8.00
Children under 12 are free
Advanced ticket purchase (1st 50) add $5-8 for a commemorative t-shirt (XL=6; 2XL=7; 3XL=8)
Special reserved seating (1st 3 rows) add $10