(click on image for a larger view)

"For Cliff -
Together we can reveal the secrets still out there.
Jane Goodall"
An avid reader of
http://www.northamericanbigfoot.com/
was flying into Boise, Idaho on April 8
th
, 2009. As he left the plane, he noticed camera crews and reporters on the way to the baggage claim area.
DB approached one of the people waiting with cameras and asked what was going on. The person, who might have been a greeter or field director, said that Jane Goodall was arriving in Idaho, apparently on the flight DB had just taken from Denver, CO!
DB is a good friend, and he immediately asked the man if he'd give a business card to Ms. Goodall. The reporter said, "Yeah, sure." DB handed him a http://www.northamericanbigfoot.com/ business card and thanked him.
DB has a good sense about people, and he knew that there was no way this guy was going to give a card to Jane Goodall for some bigfoot weirdo. DB decided to linger near the wall and watch the reporter. The reporter seemed annoyed that DB actually expected him to follow through on what was promised. DB knew that too, which is part of the reason he lingered...
Soon lights were flashing and the film crews started filming. Jane Goodall was approaching, followed by two assistants.
DB knew the reporter was not doing any favors for anyone that day, so DB simply walked up to Jane Goodall and said, "Hello Ms. Goodall. I didn't want to miss this opportunity to introduce myself. I'd like you to have a business card of my friend, Cliff Barackman. He's a bigfoot researcher in the Pacific Northwest.
Ms. Goodall stopped, smiled, and took the card. She read the card and said, "Bigfoot? Oh my!"
The two assistants behind her probably felt a little anxious at this point. Jane, however, had a twinkle in her eye. DB described it as almost mischievous.
She thanked DB for my business card, and asked the assistant to give a picture in return. The assistant shuffled through a bag, and came up empty handed saying, "I can't find one".
"You're fired!" Jane replied. The room chuckled, and for the first time DB noticed that the cameras were rolling and he was being filmed with Jane Goodall talking about bigfoot. Several newspapers and TV outlets covered this story, and at least one camera was running, getting all of this on tape (which probably ended up on the proverbial cutting room floor).
A little more rummaging in the bag turned up one last photograph. "I think this is the last one," the assistant declared.
Ms. Goodall took the photo, checked the business card saying, "Cliff's his name? Right." She put the pen against the photograph, lifted it off and gave a deeply thoughtful look before penning a short inscription. She handed the photo back to DB.
"Thank you so much," DB said. "Cliff is going to be thrilled! You're probably going to see this on his blog."

"Oh, he's got a website? Is it on here?" Jane politely asked in regard to the business card she still held in her hand.
"Yes. You should look at his website."
"I think I will."

And off she went.

[I wonder if she looked... Just in case: Thank you, Jane, for everything.]
I bet she does a mean "whoop"



In Ms. Goodall's famous NPR interview, a caller asked about the existence of
bigfoots
or yetis and she said, "Well now, you'll be amazed when I tell you that I'm sure that they exist. Later in the same interview she states, "Well, I'm a romantic, so I always wanted them to exist," and then, "maybe they don't exist, but I want them to."
Ms. Goodall may not a
bigfooter, but I think she might be a bigfooter at heart
. She just doesn't have the time to spend countless nights in the field. She's a
conservationist
,
primatologist
, environmentalist, and a general do-
gooder
. Due to these other obligations, she has precious little time for herself, being on the road for more than 200 days a year. I would like to think that if she had more time, perhaps she would direct some attention towards our North American ape.
What Ms. Goodall is doing is, once again, leading by example. Her taking the time to write a thoughtful
inscription
full of hope and encouragement says a great deal. She seems to be remaining open to the possibility of
bigfoots
being real animals. Knowing that she has had conversations with the likes of Dr. Meldrum and Dr. Bindernagel, as well as many Native Americans, she has likely encountered compelling evidence and testimony indicating that
bigfoots
are real. Therefore, since the evidence points that direction, she thinks they might be real animals. That is the true spirit of science.
Many of her colleagues take the attitude that "
Bigfoots
can't exist, so they don't." Ira
Flatow
said in this same interview, "...since we don't really believe they can exist, we really haven't really made a serious search."
He's right. So, it's up to us amateurs.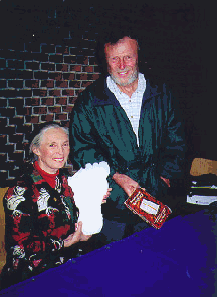 Dr. Jane Goodall and Dr. John Bindernagel


If anyone has any information on how to find this news footage with my friend talking to Jane Goodall about me, I'd be thrilled to track it down. You can contact me through
my website
.
Thank you so much to my good friend DB for making contact with one of my personal heroes on my behalf. I have seen Ms. Goodall speak and am quite taken by her. She exemplifies compassion and works tirelessly to aid the apes, humans, and the planet itself.
Please take the time to click on the following links to find out what Ms. Goodall's been up to. Contribute if you're able!
Here are Ms. Goodall's comments regarding
bigfoot
on NPR:
Friday, September 27, 2002
National Public Radio (NPR)
Talk of the Nation: Science Friday with Ira Flatow